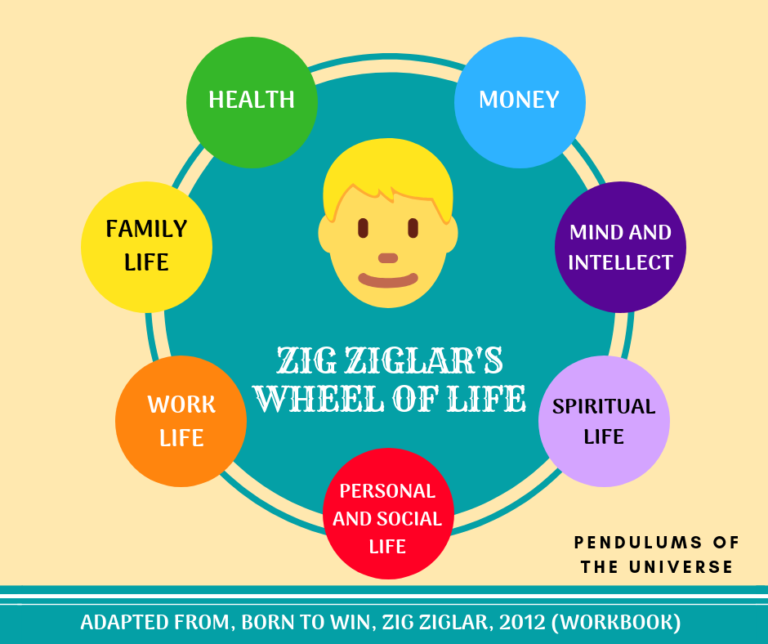 When you look at Zig Ziglar's Wheel of Life, it focuses on the 7 aspects of your life. More importantly, all 7 aspects need to be balanced and working in harmony. What are your thoughts on this? Are all 7 aspects of your life in balance? Do you find it difficult to manage all 7 aspects?
The 7 aspects of our lives:-
Your Personal life and Social life – How are you enriching your life? Who do you spend your time with? What do you do with your personal time?
Your Work life – Are you where you envisioned yourself to be in your business or career? What are you doing in your business or career that's going to move it forward? 
Your Family life –Do you spend time nurturing your family relationships? What are your romance goals and are you where you would like to be?
Your Spiritual life – This is that inner part of yourself. Are you feeding your soul? Perhaps for some, it is that deep need that we all have to be a part of something greater than ourselves, to make a difference in the world, or to make an impact. For others, it might be having more downtime to feed your soul.
Your Money – How well are you taking care of your finances? Would you want to have more in life?
Your Mind/Intellect – What is it that you need to grow or develop yourself and keep your mind strong?
Your Health –Have you been taking good care of yourself? Are you happy with your current health levels? What can you do to make yourself healthier?
This is a pretty long list and one that needs to be maintained and be at balance at all times. So how do we do so? What do we need to do to keep them balanced and working in harmony?
With the enhanced MCO in place, this is a great opportunity for us to sit down and reflect on each of these 7 aspects and work out a strategy to develop a better self through meditation.
Take a moment and sit silently. Focus on your breath and clear your thoughts. Perhaps, during this moment, you will be guided with inspired action to work for your highest good and the highest good of all.
Blog post courtesy of Master Sarika Malhotra